Click here for www.PriceLine.com
---
You're Reading TravelASSIST MAGAZINE

---
Colorado Springs, Colorado
---
The Rocky Mountain Motorcycle Museum and Hall of Fame, established in March of 1992, is recognized as a publicly supported, non-profit, educational corporation. The museum is run by an all volunteer staff.

Unlike other automotive and motorcycle museums, The Rocky Mountain Motorcycle Museum and Hall of Fame focuses on people. The names and faces of the pioneers of motorcycling and their contributions are captured in photographs and biographies throughout the museum.

The display of this memorabilia insures that everyone has the opportunity to enjoy the history of early American 2-wheeled ingenuity, and that its legacy be preserved.

With the new interest in antique and classic motorcycles, a worldwide demand has developed for these machines, and anything associated with them. The drastic decline in the number of old bikes and memorabilia available for sale is alarming. Our history and heritage along with these machines will disappear across the water, when they are gone, they are gone forever.

Before you know it, it will be too late!

To allow these valuable examples to disappear from the American culture will be a tragedy.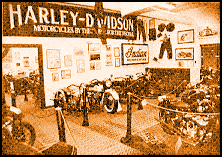 MOTORCYCLES
The Rocky Mountain Motorcycle Museum and Hall of Fame is home to over 50 original and fully restored examples of vintage and antique Indians, Harley-Davidsons, Excelsior, Tornax, Vincent, Ariel, Mustang, Matchless, BSA, Honda, Cushman, Panther, and Triumph, dating from 1913 to 1973.
MEMORABILIA
A large portion of the museum is dedicated to authentic period memorabilia, photographs, art and literature, including a wide display of pins, patches, trophies, banners, clothing, accessories, sidecars, dealer signs and banners, and vintage leather apparel.
HALL OF FAME
Unlike most "halls of fame," The Rocky Mountain Motorcycle Museum concentrates its focus on everyday people. Members of the "Hall of Fame" are individuals who have dedicated their lives to motorcycling. While some "famous" riders are included, the true pioneers and the real contributors to motorcycling heritage are often times the common man.
Each year, the museum will recognize new individuals with a photograph and detailed biography of their outstanding contributions, achievements and devotion to the motorcycling community.
PHOTOGRAPHS & ART
The collection of photographs is exceptional. Each photograph carries a detailed caption which explains the subject, event and illustrates a fine visual history of American motorcycling.
Original art work, sculpture, and rare prints fill the museum walls, including autographed portraits of Malcolm Forbes, Jay Leno, David Crosby, and Willie G. Davidson, just to name a few.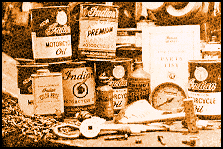 TIME CAPSULE
The museum is assembling a "riders time capsule". The idea is to create a history of today's riders. Anyone interested in preserving their own personal slice of history, may send their chosen photograph to "The Official Motorcycle Museum Time Capsule". We encourage a brief description of the photograph to be written on the back. The specially designed case will remain sealed for 25 years, then it will be opened for display.
MOTORCYCLE RESTORATION
The Rocky Mountain Motorcycle Museum now offers its highly acclaimed antique motorcycle restoration service to selected customers.
The museum's extensive library of original literature insures that each and every piece is correct in form and function. Whether your machine requires mechanical revitalization, a cosmetic face lift or a complete museum restoration, our team has the highest level of knowledge and ability to be found anywhere.
EDUCATIONAL LITERATURE
The museum has one of the largest collections of both Indian and Harley Davidson factory literature in the country. The extensive library, combined with the staffs own personal knowledge of motorcycles and motorcycling history, provide an unequalled educational experience for everyone. Visitors may obtain quality copies to assist them in their own projects, and expand their knowledge.
RIDE 'EM DON'T HIDE 'EM
The Antique Riders Club of America is an organization of antique and classic motorcycle owners whose purpose is to promote the use and ride-ability of these machines. Members share information and advice on keeping antiques alive and on the road. Call or write the museum for further information.
BOARD OF TRUSTEES
Senator Ben Nighthorse Campbell - Washington D.C.
Doyne Bruner - Colorado Springs, CO
Lou Melliini - Colorado Springs, CO
Bruce Baker - Fostoria, OH
BOARD OF DIRECTORS
- Walt Timme,Vice President
Mr. Timme is the oldest factory trained Indian mechanic in the western United States. He is the owner of Timme Motor Sales in Pueblo, Colorado, established in 1937.
- James F. Wear, Executive Director
Mr. Wear is the owner of High Country Custom Cycles and High Country Indians in Colorado Springs, Colorado.
- Bill Rule, Secretary Treasurer
Mr. Rule has been involved in antique motorcycle restoration for 20 years, and has over 50 complete Indian motorcycle restorations to date.
SUPPORTING STAFF
Regan M. Varrone - Executive Secretary
Pamela ES. Wear, Membership Coordinator
Harry Miller, Art Director
Hugh Baillie, Museum Caretaker
HOURS
- limited hours - call 719-487-8005
---
ROCKY MOUNTAIN MOTORCYCLE MUSEUM
5865 N. Nevada Ave
Colorado Springs CO 80918
---


Copyright ASSIST Information Services