Click here for www.PriceLine.com
---
You're Reading TravelASSIST MAGAZINE

---
Las Alamandas Seclusion
By Richard Carroll / Photography: Donna Carroll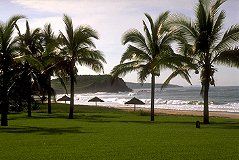 The sweeping Las Alamandas beach, with pounding surf and fluttering birds, dappled with palm trees and the site of four glorious casitas, designed for a grand total of 22 guests, is the essence of seclusion and romance.

After a fascinating 90 minute drive north from the Manzanillo Airport on Mexico Highway 200, past weather-worn houses and stands of graceful coconut palms, we pull into Quemaro village and Las Alamandas, a small, exclusive resort on the Mexican Riviera. Overlooking a gorgeous stretch of coastline, Las Alamandas is a step into a verdant world of multi-hued bougainvillea and lush tropical growth that makes you "ooh and aah" like a prowling parrot.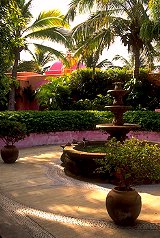 Beyond a bubbling fountain is a stretch of thick grass framed by fluttering palms leaning defiantly into a gusty ocean breeze. We are warmly greeted and led down a yellow mosaic path to our thick-walled casita where we quickly register while breathing in perfumed air that tickles our skin like a whimsical feather duster. Not unlike the glory days of Cabo San Lucas in the 1970s, the romantic ambience is carefully protected.
By eliminating room keys, blaring televisions, fax machines and jangling telephones, the quality of life spirals into a dreamy realm of sensuous pleasure. Named after the prolific yellow Alamanda flower, the gated oasis, with 1,500 acres of legendary Costa Alegre history, is as remote as it gets in Mexico.
Owner, Isabel Goldsmith, a smashing woman with great flair and style who exchanges niceties with the world's movers-and-shakers, is the daughter of billionaire financier Sir James Goldsmith, one of the world's most successful businessmen and a noted author. Her maternal grandfather, Don Antenor Patino, a Bolivian tin magnate, had a passionate affection for Mexico's Pacific Coast. In 1974 Patino completed Las Hadas, a 5-star resort seven miles northwest of Manzanillo on the Santiago Peninsula which was the birth of tourism for this region of Mexico.
Mercifully, the area from Manzanillo to Las Alamandas, including Costa Careyes, has large pockets of undeveloped land with lingering sunsets, year-round temperatures averaging 80 degrees and a landscape laced with coconut palms, banana plantations, flowering trees and thick, inland jungle.
In 1982, when the beloved Senor Antenor Patino died, he left Isabel the 1,500-acre Las Alamandas parcel that was slated for large resort development. Isabel, who was raised in Paris, attended school in England, and has homes in the British Isles and California, is familiar with hotel hospitality-craft and service as it should be.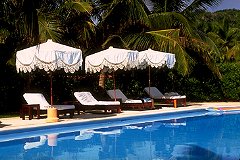 Without a touch of pretension, and a high priority for conservation, Isabel designed Las Alamandas for a discriminating clientele by utilizing the best of uncluttered, Mexican tropical hacienda decor and architecture. Classic primary colors, tile floors, thick walls, shuttered windows, high vaulted ceilings accented with twirling fans, furniture made on the premises, brightly cushioned equipales chairs from Colima, pottery from San Miguel de Allende, colorful Guatemalan pillows and Mexican fabrics, set an exquisite mood.
Upon the opening in 1990, Robert De Niro, the first registered guest, suggested a state-of-the-art work-out room, which was promptly installed. Richard Gere and Cindy Crawford honeymooned here, and Frances Ford Coppola booked the entire property for his family. Rod Stewart, Meryl Streep and Rachel Hunter have checked in, along with folks from all walks of life in search of a romantic stress-free holiday.
General Manager, Nicolas Wright, low-key and gracious, who last worked at the Dorchester in London, will pick up guests at the airport and helps them move to a state of carefree relaxation. "Unobtrusive pampering is a hospitality craft that is so subtle it has become an art form," explains Wright. "It takes only a few hours to fall into the flow of Las Alamandas and feel as free as the wind."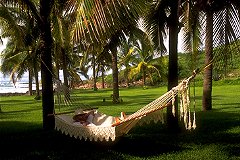 While relaxing in a hammock and watching the birds flit about, we are greeted by a smiling man from the kitchen who appears holding a chalkboard with the evening menu. We make our selections, and, incredibly, he retains the information without pad or paper, then walks to the next casita. Dinner is in the oven and it is only 4 p.m.
We slip down a canopied path to a late dinner on an open terrace past a shimmering swimming pool and are serenaded by crickets, frogs and other wondrous sounds. Chefs prepare low-fat, light Mexican cuisine featuring fresh, fresh, fresh. Vegetarians are accommodated as are those who like their tasties swimming in butter. Specialties include ensalada de nopales, chiles en nogada, river crayfish cooked in a light garlic sauce, baked tortilla chips and shrimp soup.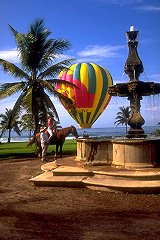 The next morning, the embracing duo of romance and adventure flash across the horizon when the Las Alamandas hot air balloon comes to life for a flight above the San Nicolas River on the down-river wind currents to the resort. Captain Jay Kimball who pioneered hot air ballooning in Mexico says, "The best ballooning conditions in all Mexico are here. Wind currents are steady and full of zing, and the views are magnificent. When you see Iguanas in search of the first rays of sun cleverly draped on tree tops, you'll known what I mean."
Our last day, and a soft rain begins to fall as the beach becomes foamy from a wind-riffled ocean. We sit under a cabana and watch the clouds add another dimension to the setting and wish we were just checking in. That evening, under a star-filled sky, a huge buffet awaits along with Mexican music, candlelit tables and a roaring bonfire on the beach. We meet guests who have been here for three days including a flushed honeymoon couple that checked in almost a week ago.
Friends for a fleeting moment, everyone saluted the evening and exchanged nice thoughts about Las Alamandas before disappearing into the darkness.
WHEN YOU GO
Las Alamandas offers hospitality for a total of 22 guests; some villas can accommodate up to six people; November to April is high season.
Rates for two persons, May 1-November 15, depending upon the suite, start at $180 a day, breakfast only and all sports facilities; $320 a day, breakfast, lunch and dinner and all sports facilities, and $499 to $639 for the Presidential Suite.
For reservations and package information call (800) 223-6510. Privately owned Aero California, based in La Paz, Mexico, has non-stop daily flights from Los Angeles to Manzanillo. Cabin attendants are bilingual, drinks and meals are complimentary. (800) 237-6225.
Las Alamandas will arrange airport pick-up from Manzanillo and Puerto Vallarta. There is a private landing strip at the resort capable of accommodating a King Air Turbo Prop, Lear Jet 28, or other small planes.
Hot air ballooning season, November to May; rain squalls from June to mid-October.
---


Copyright ASSIST Information Services