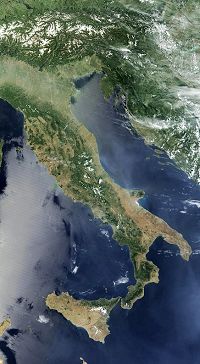 Close your eyes and imagine a quiet, beautiful, ocean front town delicately embracing the traditions of 50 years ago. Imagine you and your loved one sipping espresso, cappuccino, prosecco or Italian sparkling wine, while over looking a beautiful exclusive beach with your hotel room just steps away. Imagine the sound of the ocean as you drift away to sleep at night getting the well-deserved rest your mind and body need. Sound good? This sensual delight is known as Positano, Italy.

Positano is located just 56 miles from Naples and 486 miles from Rome. Postiano is off of Italy's Amalfi Coast. The road along the coast is a winding, slow moving road that sets travelers into the mood that Positano invites. In the village life, children are able to walk to the school bus and locals enjoy their newspapers and coffee over looking the ocean of its coast. Positano is the most romantic place on earth. Perfect for newly wed couples or long time lovers to enjoy and get back to their roots of falling in love.

While in Positano, you will want to stay in the loved and favorite hotel, Le Sirenuse. Le Sirenuse is a converted family home built in 1951 for the Marquis Paolo Sersale, the mayor of the town back in the 1050's. John Steinbeck describes the hotel as "an old family house converted into a first-class hotel, spotless and cool with grape arbors over its outside dining rooms…Every room has its little balcony and looks out over the blue sea to the islands of the sirens from which those ladies sang so sweetly".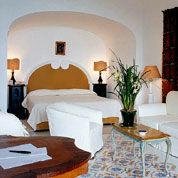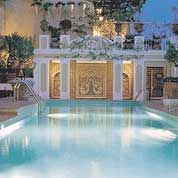 Still run and enjoyed by the Sersale family, the hotel offers many luxuries to it's guests, whether they be movie stars, U.S. tourists or European writers and artists. Included in the room rate is a daily buffet breakfast featuring the classic foods of Italy. Proscuitto, pancetta, buffalo mozzarella, fruit, cereal, juice, and of coarse a fresh cup of coffee or a mixed drink. Not only does the hotel offer wonderful food service, but it posses one of Italy's finest restaurants, La Sponda. Dinners offer fresh fish mixed with the flavors of Italy, lemon and olive oil joined with an array of pastas to choose from.
Positano offers many hotels and inns to stay in as it lays nestled in the vertical hills, but for a special romantic treat Le Sirenuse is highly recommended.
Positano is a small town that allows it's visitors to relax completely, visit the local shops and enjoy good food and wine. Souvenirs such as lemoncello liqueur , cosmetics and infused soaps with authentic flavors will allow the traveler to bring home a little of the taste and smells Positano has to give.
The traveler does not have to worry about transportation around the town, everything is in walking distance and can be enjoyed with the stress of vehicles. Positano is not the type of place were you need to run around. The city can be enjoyed on the traveler's time. It is a great place to read that book you never did and catch some relaxing rays of sun.
Positano has lively nightspots on the beach, as well as good restaurants. If you are an art fan, visit the cities many art galleries and see artwork that depicts Positano. Positano is a piece of artwork in itself. Enjoy its crystal cool waters, good food, creative culture, a relaxing vibe and pleasing hospitality as you gaze over the Mediterranean Sea.
Room Rates at the Le Sirenuse

Standard Double $554 per night
Deluxe Ocean View $975 per night

Rates reduce during the off peak season between November and December.

For reservations or more info contact: Le Sirenuse, Via C. Colombo 30 / phone (011-39) 089-875066