The jewel like waters of the Bahamas are perfect for snorkelers, divers, fishermen, sailors, and sun lovers. The Bahamas are made up from over 700 Islands that gained their independence from Britain in 1973. Everything you have ever dreamed of for a secluded getaway or an action packed trip can be found here on the islands of the Bahamas. The average temperature highs/lows 90 degrees/74 degrees in the summer and 78 degrees/62 degrees in the winter.

For the honeymooners, the Bahamas are more than perfection. Head to the Abacos located in the out Islands. Here are snow-white beaches and two underwater parks that are great for swimming, snorkeling, and diving. Hope Town is a beautiful village, car-free and highlighted by picket fences, a little harbor, flowers galore, and the adorable little lighthouse. Or sleep under the stars while enjoying a stay at the Bluff House Club on Green Turtle Cay, Abaco.

SPECIAL EVENTS

    June
        -Goombay summer
            -music
            -dance
            -art events
            -Bahamian Culture
    Quincentennial festivities
        -Discovery Day
            -October 12
            -Landfall Park
            -Cable Beach
            -Paradise Islands
            -International Bazaar
            -Family Islands
            -Port Lucaya Marketplace

Visitors from the US need a valid passport and picture ID to travel and you will also need to show an ongoing or return ticket.

Arawak Indians inhabited the islands when Christopher Columbus first set foot in the New World on San Salvador in 1492. British settlement of the islands began in 1647; the islands became a colony in 1783. Since attaining independence from the UK in 1973, The Bahamas have prospered through tourism and international banking and investment management.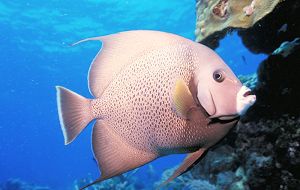 Because of its geography, the country is a major transshipment point for illegal drugs, particularly shipments to the US, and its territory is used for smuggling illegal migrants into the US.

The Bahamas is a stable, developing nation with an economy heavily dependent on tourism and offshore banking. Tourism alone accounts for more than 60% of GDP and directly or indirectly employs half of the archipelago's labor force. Steady growth in tourism receipts and a boom in construction of new hotels, resorts, and residences had led to solid GDP growth in recent years, but the slowdown in the US economy and the attacks of 11 September 2001 held back growth in these sectors in 2001-03.

Overall growth prospects in the short run rest heavily on the fortunes of the tourism sector, which depends on growth in the US, the source of more than 80% of the visitors. In addition to tourism and banking, the government supports the development of a "third pillar," e-commerce.