When on the road, or in the air, nobody likes to crawl into foreign, uncomfortable sheets or climb into a cold and clammy sleeping bag. The simple cure for this is The DreamSack. The DreamSack is light, compact, easy to pack and made from fine silk. In the winter time, the DreamSack makes a great liner, and in the summer time it may be all you need for a comfortable nights rest.

Caring for a DreamSack is easy! Wash your DreamSack by hand or in the washing machine on the gentle cycle, with cool water and with mild soap then hang to dry. You will be amazed at how quickly they dry!

Why do people love the Dream Sack so much? Because when travelers are headed off to strange or exotic places and are planning on staying in hotels or hostels, it's always nice to have your own bed to get into after a long day of sight seeing, working, or traveling. Campers love the DreamSacks because the because they keep sleeping bags warm and clean.

A regular DreamSack weighs 5.5 oz and the Extra Roomy DreamSack weighs 7oz. Both sacks roll up into a drawstring bag about the size of a pair of socks or a popsicle!

Choose from 7 different styles of DreamSacks. The Original, Extra Roomy, the Double DreamSack, the Double Deluxe and the Shortsack.
THE ORIGINAL Sewn on three sides, use like a sleeping bag. All DreamSacks come in a variety of colors. $55.00
THE OPENING DREAMSACK This allows you to slip in from the side. $65.00
THE EXTRA ROOMY OPENING DREAMSACK You can spread out in a sea of silk, also opening down one side. $69.00
THE DOUBLE DREAMSACK With room for two, and opening down both sides. $110.00
THE DOUBLE DELUXE DREAMSACK Also for two with even more silky space. $130.00
THE SHORTSACK This DreamSack is perfect for kids. $45.00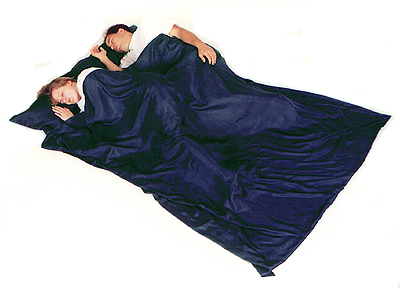 Many people are allergic to detergents and laundering chemicals which makes sleeping away from home very inconvenient. With the DreamSack, a person can sleep in a motel or at a friend or relative's house without the fear or misery of having an allergic reaction. A Dream Sack is a solution to the problem that children with allergies face when they want to sleep over at a friend's home.