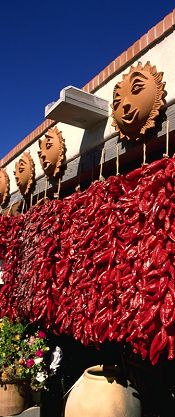 Have a desire for some rich culture? Want a destination where you can learn and have fun?

Visit Santa Fe, New Mexico where you can find historical sights, art, wonderful food, great weather, and fun for the whole family. Santa Fe's old adobe buildings have all been preserved beautifully.

You can find an abundance of Bed and Breakfasts and hotels, and the dining is the best of all. Visit the miraculous staircase or shop downtown where you can find arts and crafts, native American culture, and of coarse beautiful sterling silver and turquoise accessories. And don't overlook Taos just a short drive away.

Dining
Cafe Pasqual, (505) 983-9340 / Coyote Cafe, (505) 983-1615 / The Shed, (505) 982-9030
Bed & Breakfasts and Hotels


Water Street Inn - The hospitality here is wonderful, the Water Street Inn's staff does a special job to make the guest feel at home. With it's Southwest theme, wonderful colors, amazing artwork, and stylish decor, the Water Street Inn is everything a B&B could be.

El Farolito - This is a wonderful inn made up of four adobe buildings surrounded by southwest nature. Each guest room comes complete with it's own private entrance, small patio, and fireplace. The location is good, within a ten minute walk from the plaza.

Hotel Santa Fe - Complete with a Native American decor, this hotel's Native American influence is shown in everything from the artwork to the staff. This adobe pueblo style building is relaxed and inviting.

From Cliff dwellers to Conquistadors to Today, Santa Fe has thrived through four centuries. The Indian, Hispanic and Anglo cultures interact where necessary, yet they remain distinct. Explore this section for a deeper understanding of why this city is too resilient, rich in history and culture, to ever become ordinary.