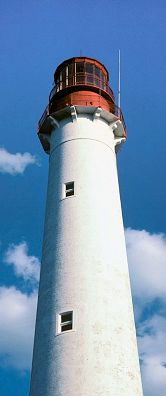 Although you could always go for the popular New Jersey sites of: Atlantic City, Ocean City, WildWood, or Cape May, - there are quietier, funkier places to get away from it all along the Jersey coast.

Beaches, a lighthouse, boardwalk and sand dunes galore greet you along the 18 mile coast of Long Beach Island, an underdeveloped barrier island.

The beach town of Loveladies, filled with odd artchitecture, will lead you towards -
The Barnegat Lighthouse which is where 2 tankers were hit in 1942 by German U-boats. You can go deep sea fishing and stay at the Barnegat Lighthouse's Northshore Inn.
The most colorful attraction along this coastal island is the mile long boardwalk located at SeaSide Heights further north. There is a very active nightlife here at clubs like Temptations, which can host up to 2000 disco dancers. Surfers will enjoy Grogs Surf Palace and Joey Harrison's Surf Club (Ortley Beach.)

All of this - only 90 minutes away from New York.

Despite its geographic size, New Jersey offers visitors an unparalleled array of beautiful, interesting, fun and exciting destinations.

The cultural life and treasures of New Jersey have never been more abundant than now, at the dawn of the 21st Century. With more than 700 arts organizations making their home here, every region is bursting with music, theater, dance, film, fine art and cultural exhibits.

And New Jersey is a year-round destination that's never out of season. Summers are filled with boardwalk and theme park excitement and exhilarating ocean swims. Fall brings crisp autumn days that are perfect for hiking wilderness trails. Or there are lush gardens in spring and brisk winter mountain skiing.