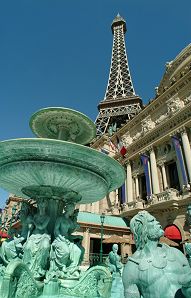 When a casino vacation comes to mind, one generally thinks about megaresorts, expensive restaurants with celebrity chefs, and explosive volcanoes. This is true for the almost 34 million people who visited Las Vegas last year. But some people are just burnt out on the entire Vegas party scene, the cure to that? RENO!

Reno is a much more laid-back type a place with the good old feeling of employees who smile, oyster bars, and three-digit room counts. "The Biggest Little City in the World" is not at all like Vegas, and it doesn't try to be. Not only can you find exciting city fun here, but you also can find great golfing, skiing, and sightseeing. Not only is Reno great, but affordable! When going to Reno, you need to know what to expect.

First of all the largest hotel in Reno is the 2,000 room Hilton. Reno is the perfect getaway especially for day trips. Being centered in the middle of 4 different cities, Reno is a great home base for day trips. Also enjoy Reno for Reno, spend time in the 30 or so casinos and enjoy the city's nonstop events. The best way to enjoy Reno is to plan in advance, pick up the "Reno, Sparks, Lake Tahoe Visitor Planner".

To get your own free planner call 800-FORRENO. This planner is great for providing hotel descriptions, special-events listings, sightseeing itineraries, maps and much more.

One of the best things about Reno is the fact that up scale hotel rooms are still going for bargin-rate lodging and the same goes for dining. While visiting Reno, it is a must that you visit John's Oyster Bar at John Ascuaga's Nugget. This restaurant's seafood soup is amazing and gourmet and only $9.95! The next must is a trip to Louis' Basque Corner. This area is filled with restaurants serving everything from lamb, tongue, oxtails, rabbit, paella and all in the traditional all-you-can-eat family buffet style.

If it's big flashy shows your looking for then Reno isn't your destination. The showrooms in Reno are intimate and the productions are small-scale keeping the feeling of Reno in tact. The best place for entertainment are the comedy clubs.
---
Las Vegas and it's Change
Las Vegas isn't exactly what it use to be. Now instead of seeing Frank Sinatra, Sammy DavisJr., Charlie Daniels walking the streets, we see dozens of imitators pretending to be those legends of the past. Now instead of going to the legendary MGM Grand where Dino held court in the seventies, that hotel is now Bally's and the new MGM Grand is where you can find a reproduced replica of the Brown Derby. Remember a day when food was cheap, everything was about gambling and even hotel rates stayed inexpensive?

Nowadays, things have changed. Sure the all-you-can-eat buffets are still around, but they are not too appetizing. And all of those fabulous meals for the 1978 prices can only be found at the small time casinos that call themselves Slots-A-Fun. But then again when has Las Vegas ever been a cheap destination unless you are the type that likes to come over and indulge in the all you can eat peel 'n eat shrimp for only 12 bucks a head. But then even those types find the temptation of sin hard to resist.

Vegas has become a family friendly town and casinos are trying to stay as far away from sin as possible, that means more money for them. If the whole family goes out on the strip at night, no one has to explain to the kids who those ladies are that stand on the corner, no now kids can stare at the marvel of The Mirage's volcano. Yes, there was a time when Vegas may have been called Adultland, but nowadays it's a travel destination for all, like it or not. Vegas is only getting bigger everyday, and soon buildings will be giant monsters and the casinos only a small part of what can is going to be.