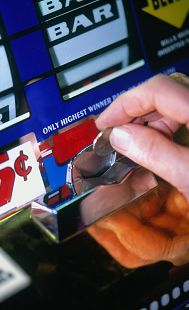 It is that wonderful city filled with sin, lights and tons of action, but can a person enjoy it without hitting the tables? Of course they can! Although Bugsy Siegal's idea of a Vegas night is cocktails and gambling, he probably would not turn in his grave if everyone found a way to have a great time. Ever since the birth of Vegas, dining and entertainment has always led you straight back to the casinos. Nowadays, Vegas has become a bona fide vacation destination.

The best, free bonus about Las Vegas is the weather, and hanging by the pool is the premier daytime activity. From mid-march through late October is the best time to take advantage of Vegas resorts. Since all resorts are in competition about who has the better facilities, you can imagine the possibilities of what these swimming pools can be. Just to get an idea, The Tropicana's pool area is a tropical environment with waterfalls and islands. The Flamingo's complex is a tropical water park with big slides and many waterfalls.

At the Monte Carlo resort you can enjoy a wave pool and as if that wasn't enough the Mandalay Bay built a tidal wave pool which is suitable for surfing contests. And of coarse all of the other resorts have pools just as creative. During the hot summer months when the pool is the most valuable option, hotels tend to discount deeply. The best pool complex in Vegas is at the Las Vegas' water theme park, Wet 'n Wild which is the most successful noncasino entertainment enterprise. This is a great place for kids and teens.

If it isn't fun in the sun your looking for than hit the shops! Who needs to worry about loosing money in the casinos when you can enjoy Neiman Marcus, Nordstrom, and Neonopolis? Las Vegas has exploded into a shopping Mecca. Of coarse designer names such as Gucci, Chanel, and Armani are not quite budgetlike, but window shopping in Las Vegas is like no other place in the world. Las Vegas malls don't just have a merry-go-round either, they have changing skyscapes, singing gondoliers plying real canals, and talking statues. The best place to shop is "the shopping wonder of the world" at Ceasers Palace. This Roman marketplace is packed with trendy designer shops is a great place to window shop or pick up some gifts.

And of coarse Las Vegas is a haven for good eats. No where else in the world is there as many restaurants with top chefs as there are in Las Vegas. There are so many restaurants right next to each other that getting into one is no problem. Try Le Cirque at Bellagio or Picasso or right across the street sit down at Wolfgang puck's postino at the Venetian, just to name a few.

And everyone knows that Las Vegas is an entertainment supermarket for day and nighttime spectaculars. You can find and enjoy light shows, water shows, magic shows, and much more!

Now the next time you and your family decide to head to Vegas and want to avoid the tables, it won't be such a hard task finding things to do, sin city is not so much filled with as much sin as we all think.